TRENDnet's Powerline 500 AV Wireless Access Point, model TPL-410AP, uses an electrical outlet to create or expand a wireless network. Two Powerline adapters are needed to start a network. Connect one adapter to a router and plug in the TPL-410AP on your electrical system to create or expand a high performance wireless network.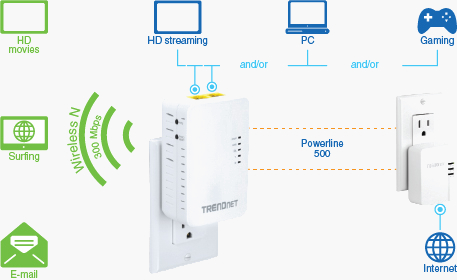 Powerline

Auto-Connect Powerline
Simply plug in the Powerline adapters—all TRENDnet adapters auto-connect out of the box
Sync Button
Press the Sync button to change existing Powerline encryption keys
Pre-Encrypted
For your security the Powerline signal is pre-encrypted
Powerline 500
High speed Powerline networking over existing electrical lines
Ethernet Ports
Two convenient Ethernet ports to hardwire computers, smart TVs, and other network enabled devices
Cross Compatible
TRENDnet Powerline 500 and 200 adapters work together
Whole Home Coverage
Connects over electrical lines for houses up to 5000 square foot home (300 m/984 ft. linear distance over electrical lines)

Wireless

Quick Setup
Get up and running in minutes with the intuitive guided setup
N300 Wireless
Proven 300 Mbps Wireless N
Wireless Coverage
Expanded wireless coverage with MIMO antenna technology
Pre-Encrypted
For your security the wireless is pre-encrypted with a unique password
One Touch Connection
Securely connect wireless devices at the touch of the Wi-Fi Protected Setup (WPS) button
Compatibility
Compatible with legacy 2.4 GHz Wireless devices
* Maximum wireless signal rates are referenced from IEEE 802.11 theoretical specifications. Actual data throughput and coverage will vary depending on interference, network traffic, building materials and other conditions
** 500 Mbps is the maximum physical Powerline data rate. Data throughput may vary by circuit wire condition. Maximum of 8 adapters (nodes) recommended for streaming video across your network.
*** Powerline networking is limited to the same electrical system. Power strips, GFCI outlets, and AFCI circuit breakers may degrade Powerline signals.
Standards

IEEE 802.3

IEEE 802.3u

IEEE 802.3x

IEEE 802.3az

IEEE 802.11b

IEEE 802.11g

IEEE 802.11n (up to 300 Mbps)

IEEE 1901/HomePlug® AV

Device Interface

2 x 10/100 Mbps ports

Sync/reset button

WPS button

Power switch

LED indicators

Power Plug (A: North America Type B (NEMA 5–15); EU: European Type C (CEE 7/16); UK: United Kingdom Type G (BS 1363))

Frequency Band

2 - 68 MHz

Networking Distance

Powerline: 5,000 sq. ft. home or 300 m (980 ft.) linear distance over electrical power lines**

Security

Wireless encryption: up to WPA2

Powerline encryption: 128-bit AES (Advanced Encryption Standard)

Utility OS Compatibility (optional)

Windows® 8.1, 8, 7, Vista, XP

Special Features

Auto-connects to other TRENDnet Powerline adapters

Additional Ethernet port for wired connectivity

Antenna Gain

2.4 GHz: 2 x 3 dBi

Wireless Output Power /Receiving Sensitivity

802.11b: 17 dBm (typical)/-76 dBm (typical) @ 11 Mbps

802.11g: 14 dBm (typical)/-65 dBm (typical) @ 54 Mbps

802.11n: 14 dBm (typical)/-61 dBm (typical) @ 300 Mbps

Power

Input: 100 - 240 V AC, 50 - 60 Hz, 0.2 A

Consumption: Active mode: 8 Watts (max.)

Operating Temperature

0 - 40°C (32 – 104°F)

Operating Humidity

Max. 90% non-condensing

Certifications

CE

FCC

Dimensions

A: 65 x 100 x 55 mm (2.56 x 3.94 x 1.97 in.)

EU: 65 x 100 x 77 mm (2.56 x 3.94 x 3.03 in.)

UK: 65 x 100 x 70 mm (2.56 x 3.94 x 2.76 in.)

Weight

A: 153 g (5.4 oz.)

EU: 164 g (5.8 oz.)

UK: 168 g (5.9 oz.)

Warranty

3 year limited
Package Contents
TPL-410AP

Multi-Language Quick Installation Guide

CD-ROM (Utility & User's Guide)

Network cable (1.8 m/6 ft.)
Create or expand a wireless network with this Powerline adapter

500 Mbps Powerline and 300 Mbps Wireless N

Easy no-CD installation

Two convenient Ethernet ports

Two Powerline devices are required to start a network
Trendnet TPL-410AP - Powerline 500 AV Wireless Access Point
Brand: TRENDnet
Product Code: TPL-410AP(Version v1.0R)
Availability: Please contact us
Tags: TRENDnet, Wireless-network